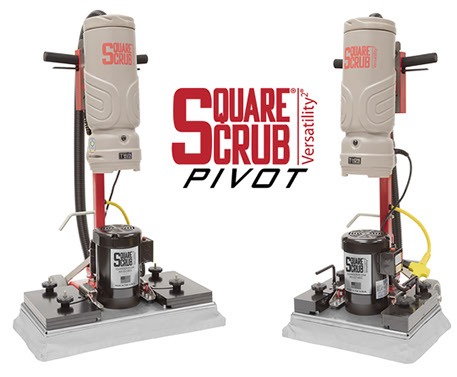 The EBG-20/C and EBG-28 series machines by Square Scrub uses a square base to get into corners where round orbital machines can't.  The EBG series machines include a pivoting head for balanced contact & easier control. The pivoting head releases the control handle from the bottom of the base, allowing the machine to pivot freely front to back. This pivoting motion follows uneven floors more efficiently.  Using the HEPA Vac attachment reduces airborne particles while dry prepping.
The all new Square Scrub PIVOT & SQP Pad effortlessly cuts through a layer of floor finish per pass.
VCT Refinishing without Chemicals
A step by step process showing how to refinish VCT without chemicals!  A step-by-step process shows exactly how to use an EBG series machine to help save the environment, time, manpower, and money.