Commercial Building, BSC Floor Cleaning
Commercial buildings are part of the first impression for any business, so keeping your floors looking their best is critical. While most facilities perform deep, restorative cleaning on a regular basis, this does not address how the facility looks between restorative cleaning. Did the customer catch the floor looking its best, or right before a restorative clean when it was at its worst? 
Focusing on interim maintenance, which uses less water, detergent, and labor, ultimately resulting in less downtime from the floor, is the best approach. Square Scrub products can address many areas in commercial buildings since they are so versatile, making them a great investment. 
Here are some of the cleaning challenges typically found in commercial settings that Square Scrub can address.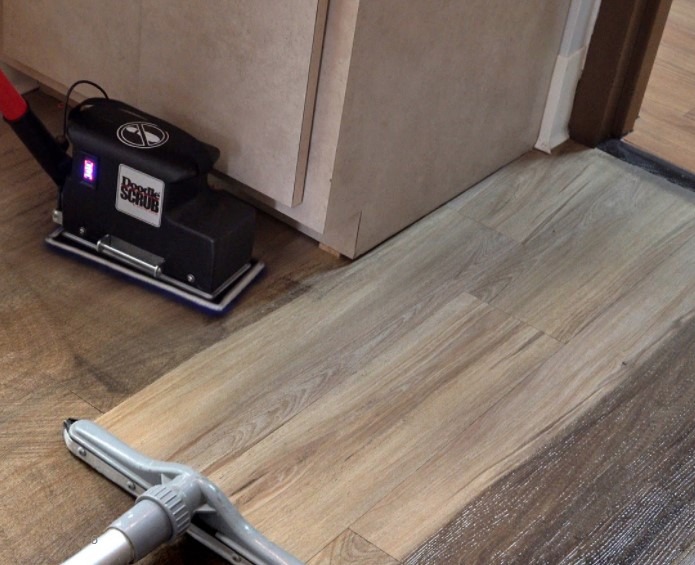 One of the most popular floors today is Luxury Vinyl, which is not supposed to have a protective finish applied in the field. Texture and embossing on Luxury Vinyl trap soil and detergent residue, resulting in a dirty-looking appearance on the floor. The Battmop system transforms daily mopping by adding 4100 RPM of orbital cleaning power to a flat mop. Pair this with a single-use microfiber, and you no longer have to transport and launder soiled and contaminated microfibers.
Easy to maneuver under and around desks, eliminates the need to bring in an auto scrubber.

Works with existing microfiber flat mops.

The battery-powered system runs for 1 hour on a charge and is simple to change.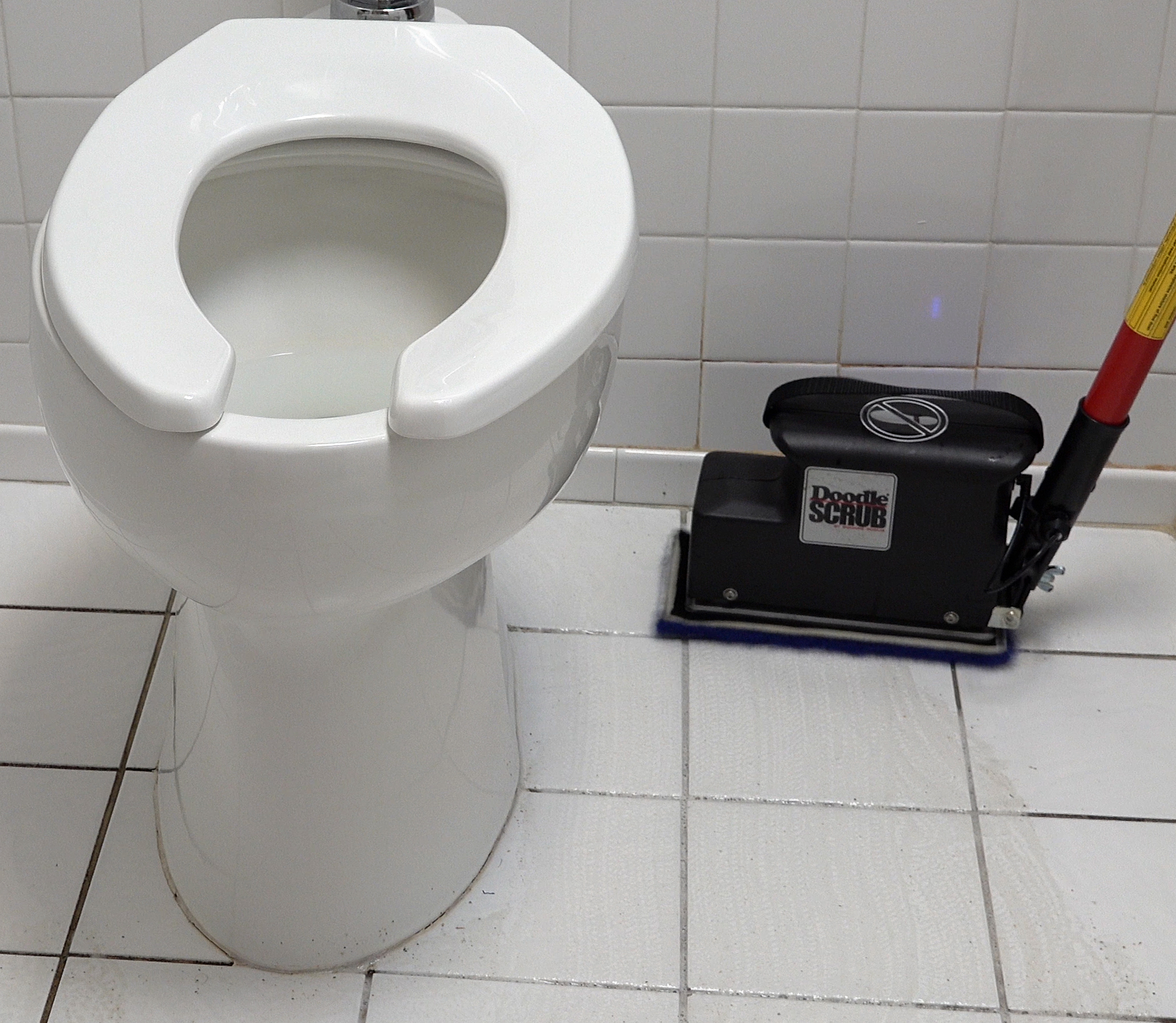 Tile and grout in bathrooms are difficult to maintain, particularly in small, single-occupancy bathrooms where large scrubbers and low-speed machines are difficult to impossible to maneuver. The ability to safely and effectively scrub deep into grout lines to remove soil, detergent residue, and other contaminants is important. In the 2020 Cleaning & Maintenance Management Magazine Facility Benchmarking Survey, over 42% of facility managers listed restrooms as the area that generates the most complaints in their facility!
The Square Scrub Pivot and our 3D Blue Tile & Grout Pad on either the Square Scrub Pivot or Doodle Scrub does a great job of safely digging into and removing soil from the grout lines.

The Doodle Scrub is ideal for scrubbing small bathrooms and showers due to its 4" x 9" size and ease of operation, which allows it to even scrub behind most toilets!

Cleaning the grout lines helps remove odor-causing soils.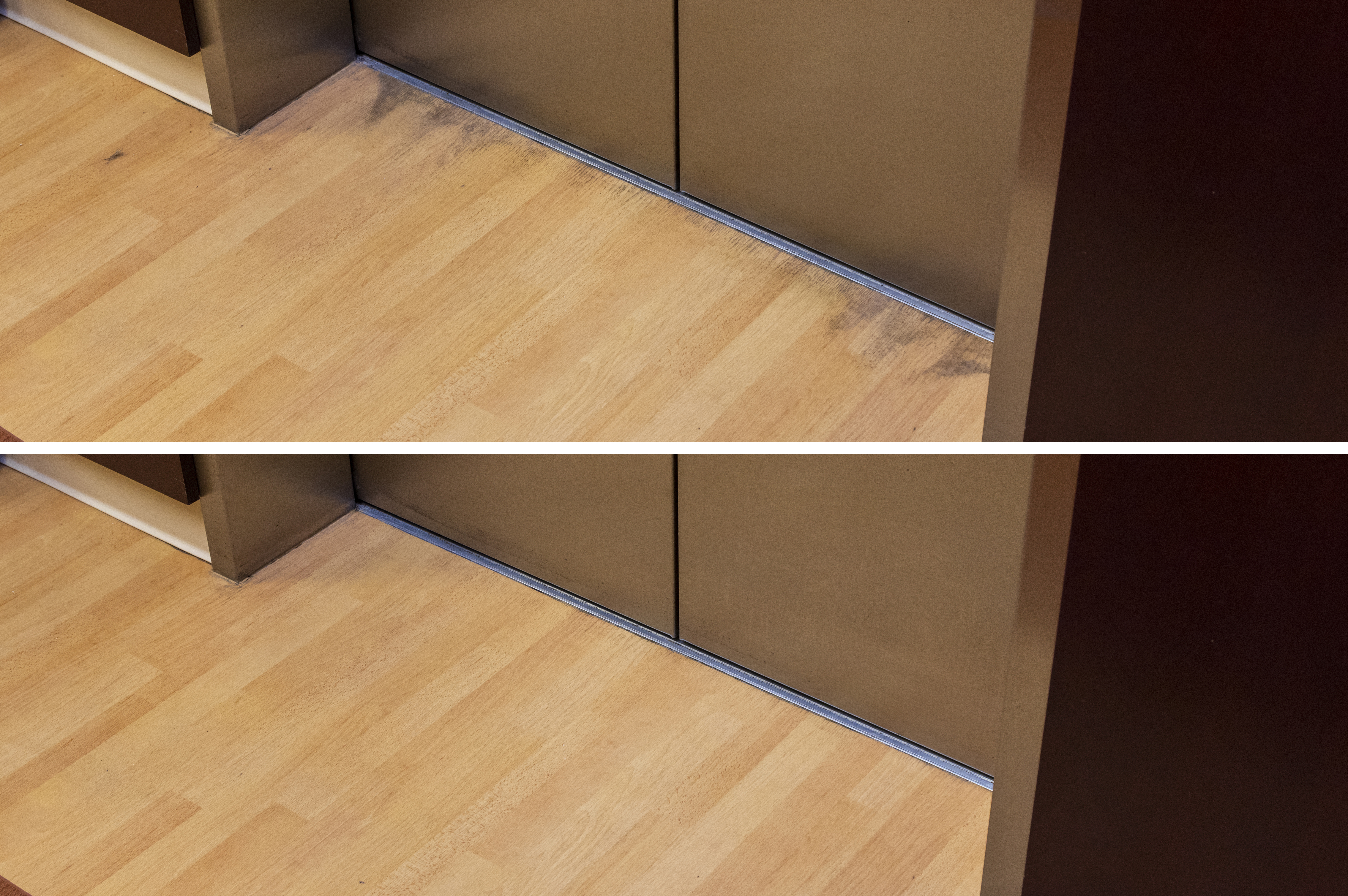 Elevators are typically difficult to clean because they are a tight compact space. The Battscrub allows you to clean elevators quickly and efficiently.
No need to locate an outlet to plug the unit in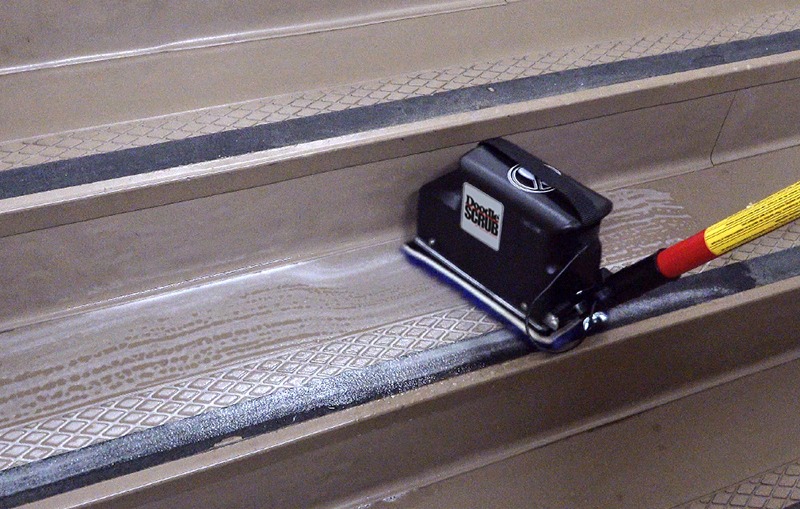 The Battscrub and Battmop allow you to restore and maintain the cleanliness of both your stairwell treads and risers.
Fire code prevents any outlets from being placed in the stairwell, making corded equipment difficult to use.

Since the Battcrub and Battmop are battery powered, they are the perfect solution for this area!

The Battscrub will do an excellent job of cleaning stair treads and can be used with the Doodle Skate to clean the risers.

The Battmop can be used to maintain the stair treads on a regular basis.
Popular Square Scrub Models for Commercial Facilities
We decided to use the Doodle Mop. You will understand why, once you see the dirt that comes off the floor.
Terry Pellerin
Associate Director of Facilities, Worcester Polytechnic Institute
After seeing the results, I was no longer skeptical and wished we started using it sooner
We were able to strip and finish all of our 1st floor halls in 3 days using the square scrub
John Rota
CHESP, Director, Environmental Services Concord Hospital