Doodle Skate
Baseboard Scrubbing Attachment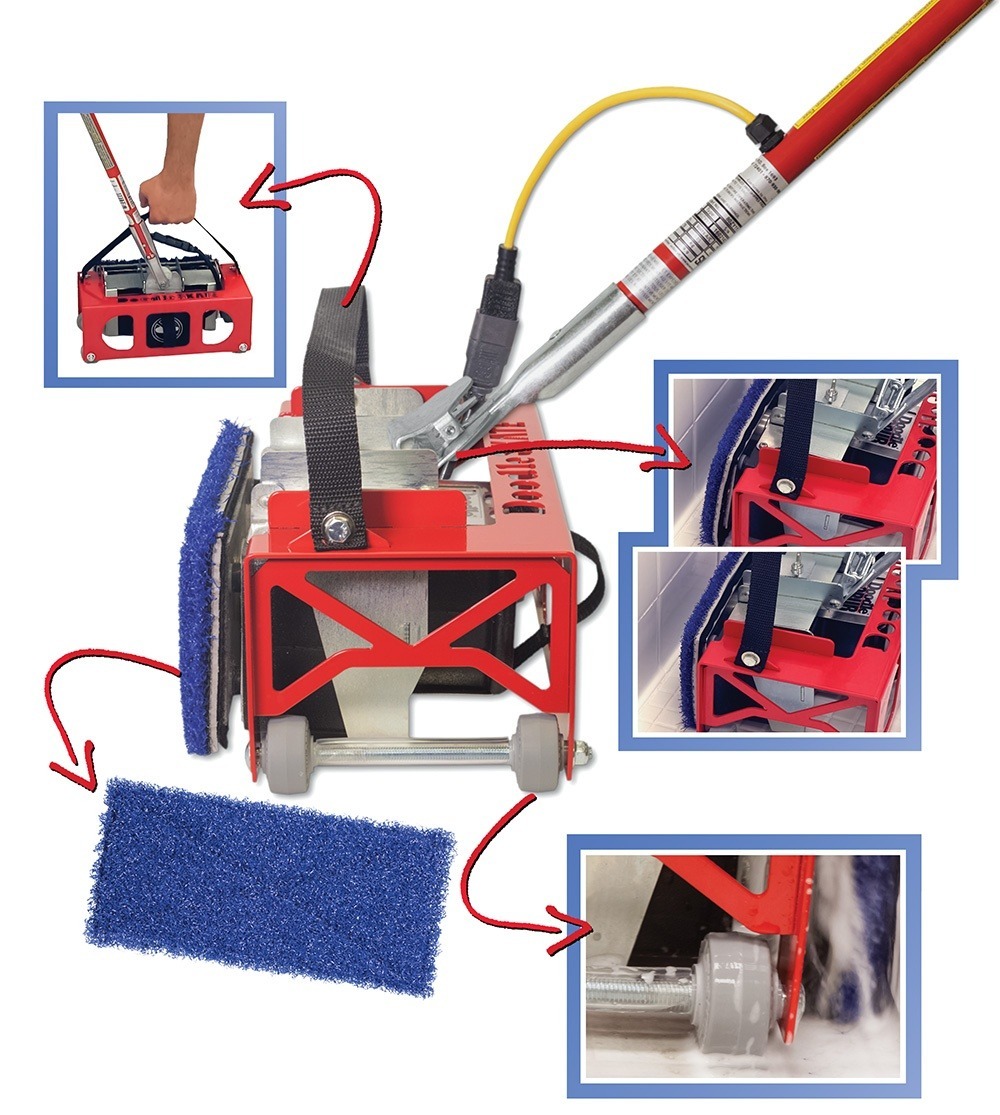 Baseboard Cleaning Made Easy
Keeping your facility clean is a tough job, and it doesn't just stop with the floors. One often-neglected area of public buildings is the baseboards, potentially untouched with accumulated gunk for years! Don't make the mistake of skipping the baseboards or trim, when you have your floors cleaned. With the Doodle Skate baseboard cleaning tool, you can use our world-class floor cleaning machines to get your baseboards spic and span. This simple, lightweight baseboard scrubbing and stripping attachment allows your Square Scrub floor preparation system to be turned sideways, directing its scrubbing power towards your grimy baseboards. You'll enjoy the same reliable deep clean as you have for your floors, without breaking your back, or your bank account.
Featuring a smooth pivoting action and non-marking wheels, the Doodle Skate baseboard cleaning tool makes even the dirtiest job a breeze. Harness the power of the Doodle Scrub machine, to tackle built-up dust, grease, and other unsightly residue on your baseboards. If you manage a clinic, a gym, a school, or other high-traffic facility, it's important that you keep your baseboards, stair risers, and trim clean too. The Doodle Skate comes with a durable carrying strap and allows for free and easy movement of the handle, to maximize the surface contact of the scrubbing pad and the baseboard surface. 
Don't neglect your facility's baseboards, stair risers, or other floor-adjacent trim. Keep your building spotless and sanitary, with the Doodle Skate attachment for your Doodle Scrub cleaning machine! Get in touch with us today to learn more about this amazing baseboard cleaning tool!
We decided to use the Doodle Mop. You will understand why, once you see the dirt that comes off the floor.
Terry Pellerin
Associate Director of Facilities, Worcester Polytechnic Institute
After seeing the results, I was no longer skeptical and wished we started using it sooner
We were able to strip and finish all of our 1st floor halls in 3 days using the square scrub
John Rota
CHESP, Director, Environmental Services Concord Hospital