Bucket on a Stick
Easy Floor Cleaning & Finish Application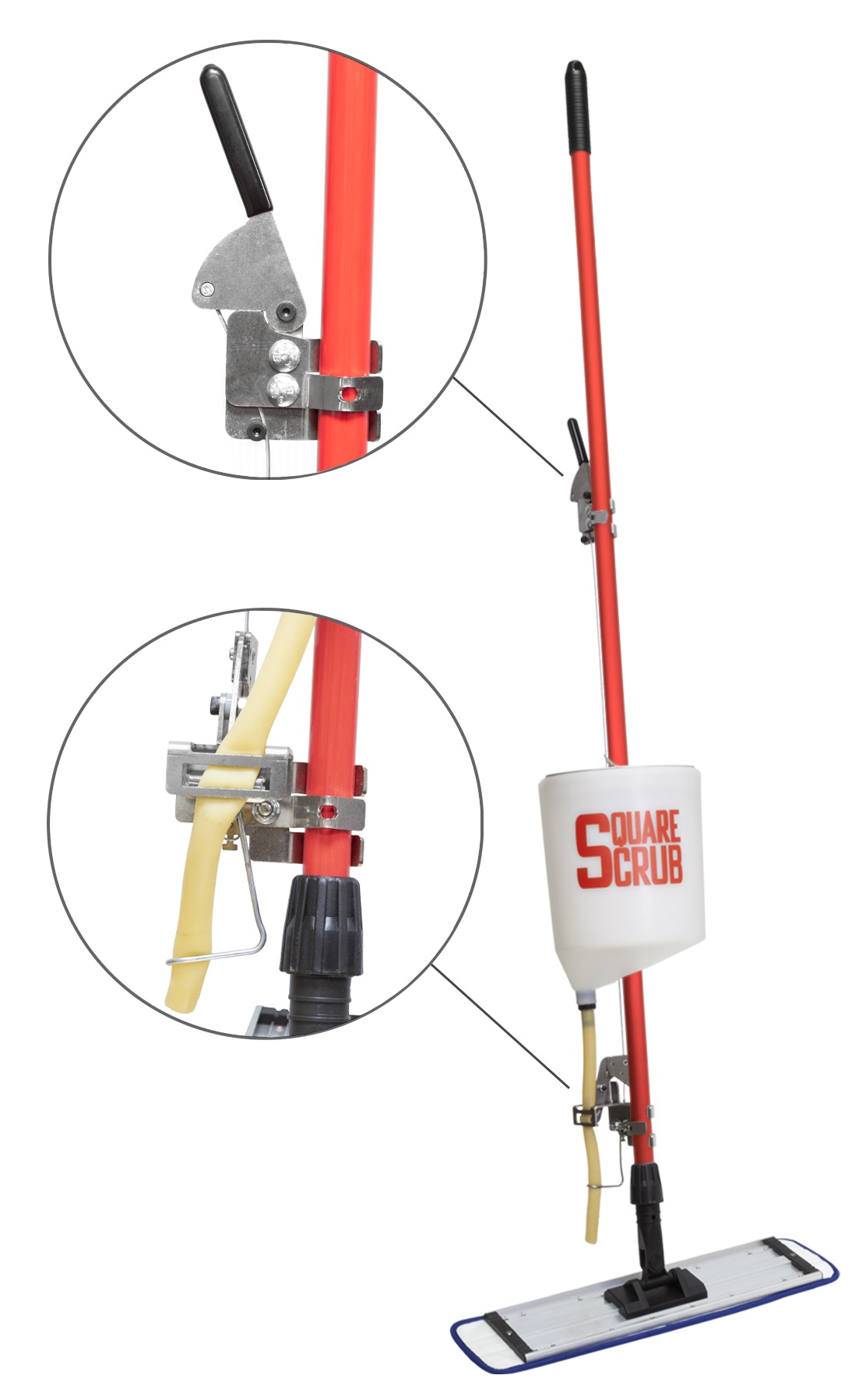 Cord-free Cleaning For Hard Surface Floors
Are you tired of using the old commercial mop and bucket system to clean your floors? It's time to try the Bucket On A Stick from Square Scrub! This lightweight, innovative cleaning solution can save you time and money, without sacrificing the quality that you deserve. Whether you're running a restaurant, a gym, or another high-traffic location, keeping your floors spic and span is essential. These days, sanitation and hygiene is more important than ever, which is why we've introduced the best floor cleaners available with our entire lineup of reliable, powerful floor preparation machines. 
Ergonomically designed and versatile, this commercial mop and bucket cleaning system applies your finishing solution with unparalleled balance and control. With two sizes to choose from- 18" and 24"- you'll be able to handle any kind of job, from wide hallways to tight kitchen corners. The wide bucket system can hold up to 5 quarts of your choice of cleaning or finishing solution and is easily refilled. You'll enjoy the convenient easy-release handle, and the no-drip clamping mechanism too. The microfiber mop heads on this commercial mop and bucket system are reusable and replaceable, giving you a smooth, clean finish without the unnecessary waste or expense. The Bucket On A Stick is the best choice for those needing a quick, simple, and cord-free cleaning for hard surface floors.
The Bucket On A Stick package includes: base, bucket, handle, and microfiber mop head. Additional mop heads, as well as T-bar attachments can be added, for even greater cleaning power. Reach out to us today at Square Scrub to learn more!

We decided to use the Doodle Mop. You will understand why, once you see the dirt that comes off the floor.
Terry Pellerin
Associate Director of Facilities, Worcester Polytechnic Institute
After seeing the results, I was no longer skeptical and wished we started using it sooner
We were able to strip and finish all of our 1st floor halls in 3 days using the square scrub
John Rota
CHESP, Director, Environmental Services Concord Hospital