When it comes to cleaning operations, the safety of workers and building occupants is of paramount concern.  Secondarily, avoiding damage to walls and fixtures is also important.  Learn how the Square Scrub Pivot makes training and operation of our floorcare system much easier than the commonly used low-speed machine."
Dry Floor Preparation only removes the top layers, which are damaged by abrasive foot traffic, leaving bottom layers intact.

Dry Floor Preparation eliminates the cost and odor associated with chemical stripping.

Dry Floor Preparation allows workers to walk on a dry and stable surface, not wet and slippery floors, resulting in a markedly safer work environment.

Dry Floor Preparation allows you to only apply a few coats of finish and still achieve the deep gloss you are looking for.  This is a significant cost-savings over chemically stripping the floor and building up all of the layers of floor finish.

Due to the freezing conditions and resulting power outages experienced in Texas in February, the resin supply chain has been affected.  This is resulting in price increases and projected shortages for floor finish in 2021.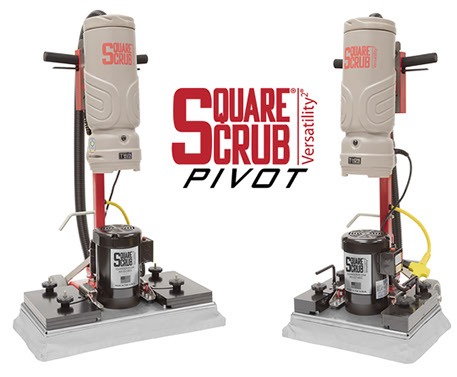 The EBG-20/C and EBG-28 series machines by Square Scrub uses a square base to get into corners where round orbital machines can't.  The EBG series machines include a pivoting head for balanced contact & easier control. The pivoting head releases the control handle from the bottom of the base, allowing the machine to pivot freely front to back. This pivoting motion follows uneven floors more efficiently.  Using the HEPA Vac attachment reduces airborne particles while dry prepping.
The all new Square Scrub PIVOT & SQP Pad effortlessly cuts through a layer of floor finish per pass.
VCT Refinishing without Chemicals
A step by step process showing how to refinish VCT without chemicals!  A step-by-step process shows exactly how to use an EBG series machine to help save the environment, time, manpower, and money.
The Square Scrub Dry Floor Preparation System
Solutions For Every Floor Type
We at Square Scrub know that time is money and the Square Scrub Industrial Floor Preparation and Cleaning Machines were born to maximize productivity in every application.
We decided to use the Doodle Mop. You will understand why, once you see the dirt that comes off the floor.
Terry Pellerin
Associate Director of Facilities, Worcester Polytechnic Institute
After seeing the results, I was no longer skeptical and wished we started using it sooner
We were able to strip and finish all of our 1st floor halls in 3 days using the square scrub
John Rota
CHESP, Director, Environmental Services Concord Hospital